Click here to view original web page at www.prevention.com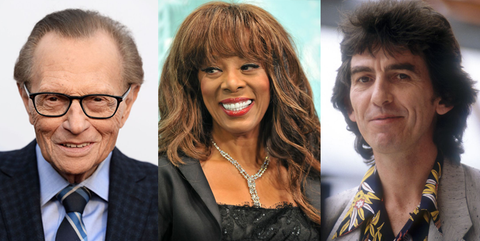 Whether they were heavy smokers or never touched a cigarette, many celebrities across all decades have battled lung cancer, the leading cause of cancer deaths in the United States. While some of them have been more outspoken about their experience with the disease, others died before their diagnosis was even revealed. Here, 20 famous men and women who have battled lung cancer, the symptoms and treatments they faced, and how their legacy still lives on.
The famed ABC World News Tonight anchor was diagnosed with lung cancer in 2005. "As some of you now know, I have learned in the last couple of days that I have lung cancer. Yes, I was a smoker until about 20 years ago, and I was weak and I smoked over 9/11," he said with a scratchy voice during his broadcast on April 5, 2005. "But whatever the reason, the news does slow you down a bit." He passed away on August 7, 2005 at age 67.
In September 2017, the veteran interviewer revealed to PEOPLE magazine that he'd undergone surgery for lung cancer that July. "They said I was lucky and smart to get annual chest x-rays because lung cancer doesn't give you any signs until it's in late stages," he told the magazine. "And by then it's too late." King, who is currently 84, smoked up to three packs a day before quitting after a heart attack in February 1987.
Known for her roles on The West Wing and Desperate Housewives, two-time Primetime Emmy Award winner Kathryn Joosten began smoking at 16 and quit when diagnosed with lung cancer in 2001. Then, two years after announcing she was in remission in 2007 on The View, doctors found another tumor on her other lung. "I'm not the type of personality to take this lying down, and I'm not accepting it," she told E! Online at the time. Despite surgery a month later in October to remove the growth, Joosten passed away on June 2, 2012. She was 72.
The legendary jazz pianist and singer was also a lifelong chain smoker. In 1964, he began experiencing weight loss and back pain. When doctors performed an x-ray on December 9 of that year, they discovered a lung tumor and began cobalt treatments the next day. In January 1965, doctors removed his left lung. Three weeks later, he passed away on February 15, 1965 at 45 years old.
A heavy smoker for years, the Hall of Fame outfielder known as the Yankee Clipper had surgery for lung cancer in October 1998. DiMaggio remained hospitalized for 99 days due to complications, reportedly including a heart attack and coma. When he returned home on January 19, 1999, New York Yankees owner George Steinbrenner invited DiMaggio to throw out the ceremonial first ball at the Yankees home opener on April 9, but he passed away on March 8 at age 84.
Although five-time Grammy winner Summer never smoked and cancer didn't run in her family, she died of lung cancer at age 63 on May 17, 2012. According to TMZ , sources at the time said Summer believed she got lung cancer from inhaling air particles after the September 11 attacks in New York City.
The American motion-picture and television producer and showman began smoking at the end of World War I and continued until the day he died, his daughter wrote in the LA Times in August 1995. He smoked unfiltered cigarettes and pipes and was diagnosed with lung cancer in November 1966. Doctors treated him with cobalt therapy, but he returned to the hospital on November 30. There, he died of circulatory collapse caused by lung cancer on December 15, 10 days after turning 65.
The Beatles lead guitarist smoked, stopped, then started and stopped again. But in 1997, he found a lump on his neck that turned out to be oral cancer. "I got it purely from smoking," he said at the time. "Luckily for me they found that this nodule was more of a warning than anything else." Doctors performed surgery and used radiation, but in May 2001 he had an operation for lung cancer, and in July he received radiation for a brain tumor. Harrison died on November 29, 2001 at 58.
Messner co-founded the evangelical PTL Club with her then-husband Jim Bakker and went on to become a TV personality. In March 1996, she was diagnosed with colon cancer, which went into remission by the end of the year. On March 18, 2004, she went on Larry King Live and announced she has inoperable lung cancer. "I knew I was starting to have problems with my voice, but I certainly didn't equate it with cancer," she said. She received chemotherapy, but the cancer returned within a year. Messner continued to fight until July 20, 2007, when she died at home at age 65.
Born in Cuba, the American actor, musician, and television producer best known for playing Ricky Ricardo on I Love Lucy smoked much of his life and often on set of the sitcom. He also smoked Cuban cigars into his 60s. He died at 69 years old on December 2, 1986, several months after being diagnosed with the disease.
Although rumors that the comedian faked his death persist, Kaufman passed away due to lung cancer on May 16, 1984 when he was 35. According to reports, the nonsmoker who also didn't drink developed a persistent cough in late 1983 and was diagnosed with large-cell carcinoma in January 1984. He made a final public appearance that March at the L.A. premiere of My Breakfast With Blassie before passing away two months later.
In early 2002, the long-time smoker and singer and actress was diagnosed with stage III non–small cell lung cancer. Doctors performed surgery the next day to remove the upper lobe of her left lung. Due to resulting infections, Clooney remained hospitalized until May; however, she returned to the hospital weeks later after relapsing. She passed away on June 29 at 74 years old.
When the American actor and singer was diagnosed with lung cancer in September 1993, the heavy smoker gave up his habit. He remained private about this disease and treatment until he passed away on Christmas Day 1995 due to acute respiratory failure. He was 78.
The "King of Cool" actor stopped smoking heavily when he developed a cough in 1978 that wouldn't go away. A biopsy in December 1979 revealed pleural mesothelioma, a rare lung cancer caused not by smoking but by inhaling asbestos. By February 1980, the cancer metastasized to several parts of his body, and he sought out unconventional treatment in Mexico. Hours after surgery to remove a tumor, he suffered a heart attack and died at age 50 on November 7, 1980.
The award-winning actor also known as The Duke reportedly smoked about six packs a day. When diagnosed with lung cancer after a routine physical examination in 1964, he recalled, "I sat there trying to be John Wayne." Then, after doctors removed most of his left lung, he quipped, "I licked the Big C." But unfortunately he didn't. During gallbladder surgery in 1979, doctors discovered stomach cancer. While waiting to build up enough health to undergo experimental treatments, he died at age 72 on June 11, 1979.
The actress, singer, and wife of actor Christopher Reeve never smoked, yet she developed a persistent cough that wouldn't go away. A CT scan in August 2005 revealed stage IV lung cancer. In a statement, she said, "My family and I deeply appreciate the care and concern of our friends and supporters and trust that everyone understands our need and desire for privacy during this time. I hope before too long to be sharing news of my good health and recovery." Reeve passed away on March 6, 2006 at age 44, 17 months after her husband's death.
Once a chain smoker, actor, entrepreneur, and philanthropist Newman reportedly quit smoking in the 1970s. In May 2007, he retired from acting and a year later, he stepped down from directing "Of Mice and Men" because of health problems. In June 2008, reports surfaced that he had been battling lung cancer for about 18 months. Newman passed away at 83 years old on September 26, 2008.
The opera singer and nonsmoker first battled ovarian cancer, having successful surgery to remove a grapefruit-size tumor on October 24, 1974. She remained private about her health, and in June 2007, news outlets reported she was hospitalized and "gravely ill" with lung cancer. She died on July 2, 2007. She was 78 years old.
The five-time Emmy-award winner actor best known as Deputy Sheriff Barney Fife on The Andy Griffith Show and Mr. Roper on Three's Company passed away from pulmonary and respiratory complications of pneumonia related to lung cancer on February 24, 2006 at 81 years old.
Carl Wilson, founding member of the Beach Boys—who created hits like "Good Vibrations" and "Wouldn't It Be Nice"—was diagnosed with lung and brain cancer in the spring of 1997. While he was known for his voice, Wilson had been smoking since he was around 14 years old, his band member Mike Love told The Guardian. Wilson succumbed to the disease in 1998 with his family by his side. "Even though he was diagnosed with cancer last year and going through treatment for a year, he was a real fighter," his publicist said in statement.